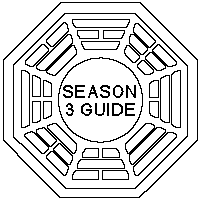 1. Man of Science, Man of Faith
Originally aired: Wednesday September 21, 2005
Writer: Damon Lindelof
Director: Jack Bender
Guest Stars: Henry Ian Cusick (Desmond) , Julie Bowen (Sarah) , Masayo Ford (Nurse) , Larry Wiss (Anesthesiologist) , David Ely (Intern) , Anson Mount (Kevin) , Ivana Michele Smith (N.D. Survivor) , Julius Ledda (EMT #2) , Katie Doyle (EMT)
A man is roused from sleep by his alarm. He jumps out of bed, types briefly on a computer and presses the "execute" button. He puts on a record (Mama Cass) and cleans up last night's dishes. He does his workout, takes a shower, makes a protein shake and gives himself am injection of…well, something. And then - BOOM! We hear the explosion and follow the man's frantic reaction into a gun locker where he loads up with pistols and a rifle and then goes to a primitive type of periscope he uses to discover the cause of this emergency. There, at the top of a very deep shaft, are Locke and Jack - who've just blown the hatch. Welcome back to Lost everyone…
Seeing the depth of the shaft, Jack manages to get everyone to return to camp with him, leaving the exploration of the hatch for another time. After all, the reason they blew it open was to hide everyone inside and that's not going to be possible. Upon his return, Jack even manages to calm the rest of the survivors down and convince them that, regardless of what they may have heard, they will ALL survive to see the next day, as long as they all stick together. But Locke can't wait any longer and openly defies Jack's orders by returning to the hatch that night. And just as Jack thinks that one person defying him was bad enough, Kate decides that she's going out there too.
Meanwhile, Shannon is frantic after losing Walt's dog Vincent. Sayid tries to convince her not to go out into the jungle looking for him tonight, but she will not be swayed. Finally, someone has trusted her enough to ask her to care for what they loved most and she's lost it. Not acceptable! So together they venture out into the dark and Shannon has an eerie encounter with Walt himself. He can't really be there, can he? He's out on the raft! But there he is, dripping wet and looking terrified. Before Sayid joins her, Walt disappears and she is left to wonder if she ever really saw him at all.
In FLASHBACK, we see Jack in full hero mode as he works on a patient brought to his emergency room after a terrible car crash. Her name is Sarah and she tells Jack one thing before she passes out. He has to fix her because she MUST dance at her wedding in a few months. And we see the very moment that Jack met the woman who will eventually become his wife. While Jack takes a late-night run, trying to accept that even his skills have their limits, he meets a man as driven as he is. Turns out "Desmond" was going to be a doctor, too, but gave it up for something else - everything else. Desmond realized there was more to life than what you could learn in medical school - and he tells Jack that sometimes miracles can happen if you just believe. Jack thinks him a total crackpot, but is forced to reconsider when, against all odds, Sarah regains feeling in her legs.
Back on the island, Jack decides to follow Locke and Kate down the hatch. As he makes his way through the bizarre surroundings, that same Mama Cass song starts up again and Jack suddenly finds himself in the middle of a stand-off. When the man holding a gun to Locke's head steps further into the light Jack gets the shock of his life. That guy threatening to blow Locke's head off? It's Desmond. The same guy Jack met running that night in another life…
Adam Rutherford, age 57, the man who died as a result of Sarah's car accident , has a time of death of 8:15. Shannon's last name is Rutherford. Perhaps her father and Boone's stepfather?

On its original airing this episode scored 23.1 miilion viewers for ABC, being the highest rated show of the night among networks. The second season debut built from last year's premiere signifcantly. Also, the 18-49 demo built by 50% last year to 10.0 rating and 24 share.

Though credited, Harold Perrineau (Michael), Daniel Dae Kim (Jin) and Josh Holloway (Sawyer) did not appear in this episode...due to their characters being somewhere in the middle of the ocean.

The song that "Desmond" plays on the LP player is the song "Make Your Own Kind of Music" performed by Mama Cass Elliot. The song was written by Barry Mann and Cynthia Weil. This is from her solo album released in 1970.

On the mural in the place under the hatch, the numbers 42 and 108 were in sight. 42 is one of the six magical numbers and 108 is the sum of 4, 8, 15, 16, 23, and 42 (the magical numbers.

Actress Julie Bowen reprises her role as Sarah, Jack's (Matthew Fox) wife in this episode (although they were not yet married at the time of the flashbacks). Her appearance is limited due to her starring role on another ABC drama, "Boston Legal"

Filming for this episode began on Thusday, July 28, 2005.

When the stranger in the arena tells Jack that he was almost a doctor, Jack says "Small world." Sawyer said the exact same words to Jack when telling him about his chance meeting with Jack's father.

When Desmond is using the exercise bike at the beginning of the episode his speed is shown as 16, likely miles per hour but possibly kilometres per hour. 16 is one of the infamous numbers.

As Jack walks into the geodesic-dome bunker, with the 80s rock music blaring in the background, Kate yells out "Jack!". He can't hear her but the closed-captioning text shows that Kate yells out 3 times.

When the unknown long-haired man (who we find out to be Desmond) sits in front of his computer at the beginning of the episode, he types "The Numbers" before hitting the execute button.

Desmond's injection drug vials have no actual drug name on the labels; they are only identified by the numbers: CR 4-81516-23 42.